The klapa-choir festival 'Povljana u pismi' (Povljana in a song) is a traditional event that has been held at the beginning of July every year since 2002, in lovely surroundings in front of the Church of St. Juraj. This festival has surpassed its local importance and acquired attributes of the most significant event of Dalmatian klapa-singing in the Zadar county. Beside klapa-choirs from the island of Pag the festival also brings together all the best Croatian klapa-choirs.
Needless to say, this Dalmatian musical tradition attracts great interest from tourists and home audience alike. Therefore, the festival "Povljana u pismi" represents a significant contribution to the tourist offer of Povljana and Zadar county.
The Tourist bord of Povljana, along with the Povljana municipality are the key organizers of the choir performance. The tourists and the home audience are able to enjoy the beauty of Dalmatian klapa-singing, and the festival "Povljana u pismi" has, traditionally, always been the best introduction to summer of culture and fun in Povljana.
The Klapa Festival "Povljana in a song" has a tradition since 2002, when Mr. Boris Rumora organized the event for the first time.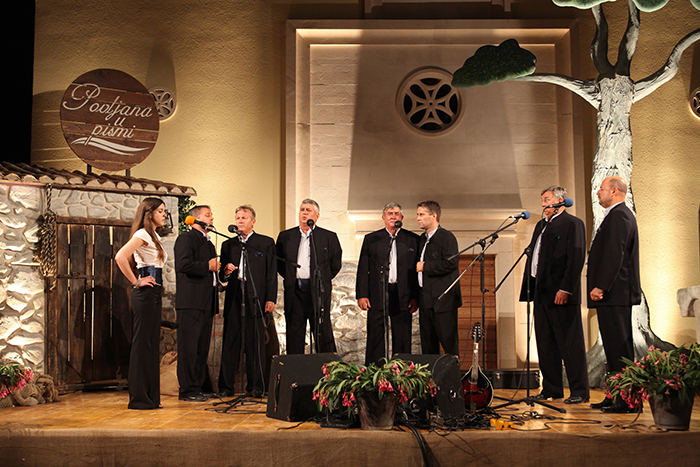 Povljana Man Choir
Men's choir Povljana has been active since 1998, and it has performed many times during its 10-year long existence. Besides performing on the island of Pag, the choir has also performed at different events in Zadar county. They also performed at events organized by Zagreb and Kutina tourist boards. For many years in a row, they have been performing abroad – in Slovenia, Italy and Slovakia.
Significant performances – Omiš Dalmatian choirs festival 1999 and 2000, Northern-Adriatic choirs festival 1999, 2000 and 2002 and performances among the most successful Croatian choirs on festivals in Bibinje and Crikvenica. Povljana choir recorded an album titled "Povljani". With its numerous performances the men's choir Povljana is a significant contributor to the tourist offer and the promotion of Povljana.